About Us

Our Range

Further Info
"Instantly Adds Space To Your Home Or Business"
This fantastic 6m x 3m 'off the shelf' Portable Building is available now "off the shelf" or can be customised to suit your lifestyle or business.

                                                                       Time: 3min 52sec
Whether you need an onsite lunch, meeting or training room, more room for your kids, a place for guests to stay or you want to rent it out, this high quality Portable Building is big enough for a small group of people and will provide endless hours of usage for whatever purpose you want.
Strong, sturdy and completely portable it's the perfect solution for space-restricted homeowners and a great investment for holiday parks and mining accommodation housing.
Here's what is included in the 6m x 3m Portable building as standard:
Full super strong steel skid base – our base is up to 3 times the size of others; this saves you money long term, as the chances of twisting/warping and transport damage are almost nil.
19 mm flooring – we fit strong flooring inside your new Portable Building. It is ready to take tiles, vinyl, carpet or can be left as is. Either way, combining the flooring with super strong base is a strong foundation for your Portable Building.
Fully-welded steel frame – our frame work is not timber – timber frames do not transport well; our frame work is not pop rivets together – our frame work is fully welded and super strong. This ads even more rigidness to your Portable Building ensuring that you have the strongest investment possible.
Colourbond cladding – we clad your walls with genuine Australian-made colourbond cladding – this gives you peace of mind that you have a quality cladding to ensure your new Portable Building can stand the heat, wind, rain and anything else the Australian sun can throw at it.
Colourbond roofing – just like your walls, you need the best on your new Portable Building. Once again, we use genuine Australian steel on your roof.
Colour-coded fasteners – all your new Portable Building fasteners and flashings are also colour coded so everything looks really neat.
Aluminium window – as standard we have one 1200 x 1200 aluminium window with sliding glass; this gives you light inside while still giving you security when you are not around.
Access door – what's a Portable Building without a door? Your door gives you security and peace of mind, which is why we include as standard a solid wooden door.
Warning – many second-hand and new portable buildings are built for a price with no care of lifetime value or quality – it pays to do your homework, weather hiring or buying – if a poorly constructed portable building twists while you transport it to you site, you are responsible for the repairs, not the manufacturer. Don't get stuck with a repair bill – only Adelaide Portable buildings gives you a super strong structure for your new portable building.
---
Adelaide Portable Buildings Range
Click On The Below Images To Enlarge:
6.0 x 3.0 m Teenagers Retreat
/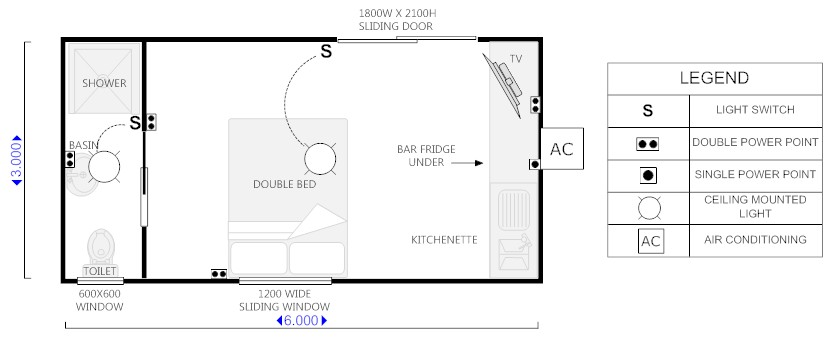 6.0 x 3.0 m Granny Flat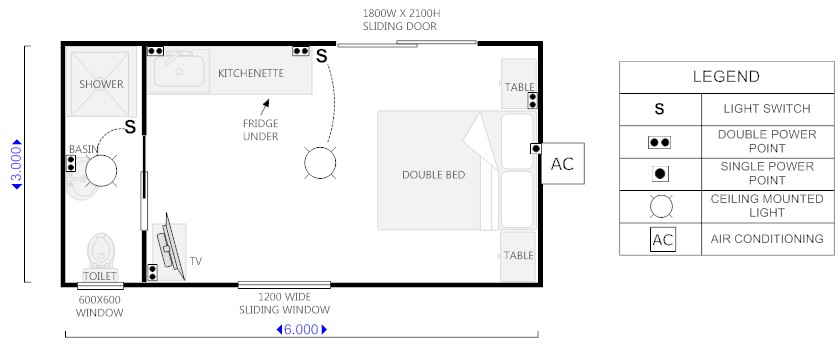 6.0 x 3.0 m Instant Space

6.0 x 3.0 m Open Plan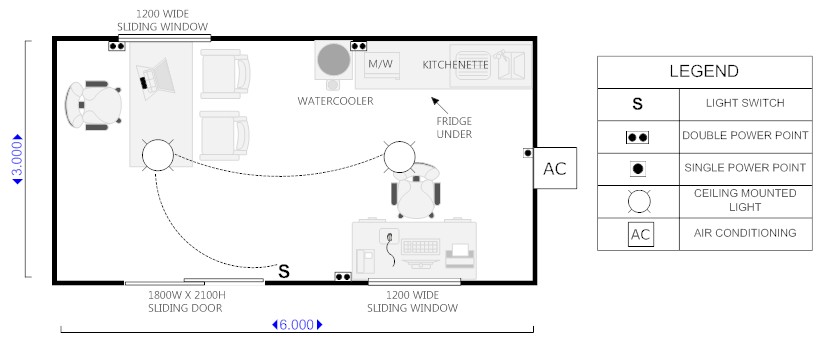 6.0 x 3.0 m Office
---
Option Extras For Portable Buildings
We have wide range of customers, some customers like to purchase their portable building as standard, then DIY the rest, but others like it all done for them, so here are some of the options you can ad:
Optional insulation – insulation of your walls gives you warmth in winter and coolness in summer.
Optional wiring – we can wire up your new Portable Building however you like. We do also have a standard electrical pack that includes one light, two power points and one circuit box – juts ask when you order.
Optional interior lining – we can add Gyprock interior lining to your new Portable Building so when it arrives it is ready to go.
Optional air conditioning – we can add an optional air conditioning unit to your Portable Building so you will stay cool and cosy in summer and winter.
Optional sliding door – why not add even more light with an optional sliding door to your new Portable Building?
Optional extra windows – add windows wherever you like.
Optional kitchenette – a sink, cupboards and drawers make your life easy onsite or at home.
Optional shower – our inbuilt shower module gives you a home away from home, and a fully contained Portable Building.
Optional toilet – with or without a show, we can add a toilet to your Portable Building, so when your new building arrives, it's ready to go.
Custom options – just let us know what you want; we will do our best to help.
Adelaide Portable buildings, the only portable build that gives you an instant solution to your space problems – call us today on 0402 031 736 or fill in the form at the top of the page for instant pricing and free info package.

target="_blank">
src="//c.statcounter.com/11125498/0/847da2fa/0/"
alt="shopify traffic stats">